Basic Alignment (60 min) EN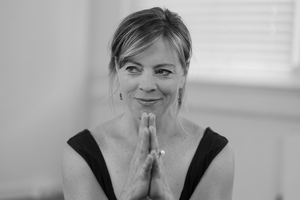 In this slow paced "Anusara-inspired" Hatha yoga class, ten to fifteen asanas (postures) are treated.

This yoga is slower in tempo than a basic flow class, with options to make the asanas more intense. Each focuses

on a yogic theme:


•    Body posture alignment

•    Mental and energetic alignment principles 

•    breathing

•    suppleness 

•    concentration


The Basic Alignment class starts with the release of thoughts and awareness of breathing and introduction to the theme of the class. The body is warmed up by means of strength asanas, like sun salutations, warrior positions or traditional standing positions. The asanas that follow, focus on expressing or practicing the various themes of the class such as:


•    balance

•    strength

•    energy

•    grounding

•    energetic directions

•    back, shoulder or  hip openers

T
he class ends with at least five to ten minutes of rest/meditation.


For who?


This class is ideal for beginners, people with (old injuries) and all who want to learn how to handle your body with more awareness. Advanced students can use this class to deepen inner themes and to explore personal modifications of asanas.


If you are pregnant, please let the teacher know so (s)he can take it into consideration.
Online livestream yogaclass. To reserve your spot, go to 'memberships' and purchase an unlimited week or month subcription. Now you are ready to reserve your favorite livestream class with 'class reservation'. A single livestream class can be bought right here in the schedule.

All set? View your upcoming classes at 'online lessons'. 15 minutes before your class starts, you will see a button 'start online meeting' at this page. The video will be broadcasted on De Nieuwe Yogaschool youtube channel. After making a reservation, this class will be available to you for 48 hours. Enjoy it whenever it suits your schedule best!